error 144 - shot a man
===========

This is Error 144's dark drop horror track, "Shot A Man".

Two wide variations of the same song are here delivered on coloured detroit vinyl.

They were first performed live in Reykjavík at the Lokað festival in 2013.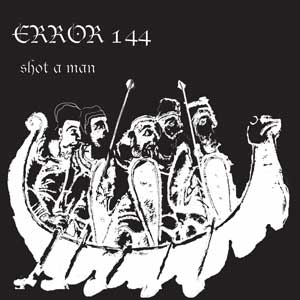 track list:
=======
side a) shot a man (error mix) [++ video ++]
side b) shot a man (dada mix)

associated music video:
===========
shot a man

credits:
=====
written and recorded by steve waller
vocals by patrick andrew hunt
produced by kenneth balys
project coordination nicole kraschina
design and photo nicole kraschina
photography andrew macfarland
mastered by noah mintz at the lacquer channel
acetate by archer record pressing
released 2008
format: seven inch colour vinyl
product identification: BKEP200801

©2008 Beatkamp Inc., All Rights Reserved.