dada pogrom - tech noire
===========

This project represents a serious attempt to exploit the Tech Noire genre. Hence the name.

It was mixed by Spike. Fuelled by hot Sri Lankan food and tea, he accomplished this under total analogue conditions. Spike's many credits include such acts as Billy Idol, James Brown, Platinum Blonde, to name just a few. His specialty was live sound.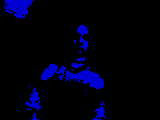 Gear List: Akai MPC2000XL, Roland Jupiter-6, Jomox XBase-09, Doepfer A100, TR606, TB303, SH101, MC202, Electrix Filter & Warp Factory, Korg ER-1, Studio Electronics ATC-1, Access Virus, DR55, DC1, Memoryman, Ensoniq ESQ1, Novation Drumstation, Yamaha DX9, Emu Emax, SP202, TC Electronic Delay, Drawmer Compressor, Tascam TMD4000, Acorn Atom, Atari 2600

This record was recorded live.

track list:
=======
01) uppkoma
02) stríð [++ video ++]
03) sál
04) gangur
05) stjarna [++ video ++]
06) fórn
07) koma
08) kraftaverk [++ video ++]
09) eilífð

associated music videos:
===========
stríð
stjarna
kraftaverk

credits:
=====
produced by kenneth walter balys
engineered by spike
recorded at the leda chamber, toronto
mastered by noah mintz at the lacquer channel, toronto
cd layout and design by kelvin mason
written and performed by kenneth walter balys
released 2002
format: compact disk
product identification: DAD002

©2002, 2005 Beatkamp Inc., All Rights Reserved.